Helping furry friends in need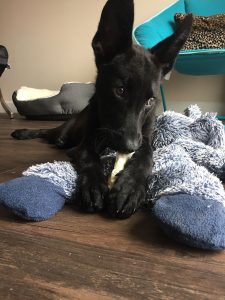 We have seen and heard too many stories lately of communities – even whole islands – devastated by hurricanes, mass shootings, and fires. The bright spot in the overwhelming darkness of these stories are  the extraordinary and generous  people willing to help others.
At a fundraising concert to help Houston rebuild after Hurricane Harvey, four UT Austin seniors answered the call of Austin Pets Alive! no-kill shelter representatives. They were in dire need of foster homes for adoptable pets. Within a day of applying, they were approved and chose to foster Cody, a 3-month old black shepard/lab mix puppy.
We spoke with Ariel Landau, journalism major and Alpha Epsilon Phi member about the experience. They chose Cody because he was at risk of being euthanized at another shelter. APA facilitated the move and he was safe in their arms within a few days.
Ariel and roommates Maddie Friedman, Public Relations, Alpha Xi Delta; Megan Burke, psychology; and, Tara Wood, nursing live in a small apartment five minutes from campus. They were most surprised by how quickly they were approved as fosters.
In addition to caring for Cody, they were responsible for taking pictures of him, posting a bio, and meeting and evaluating potential "forever parents." The shelter has their own adoption application process, and the fosters' recommendation is an important part of it.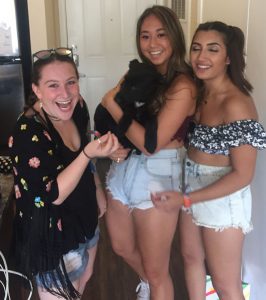 They managed their schedules around Cody's needs. Morning feeding and walking was assigned to whoever had the earliest class that day. And, instead of going from class to the library to study, Ariel would go home to attend to Cody and study.
Potty training is "in progress" right now, but Cody does sleep through the night in his crate. Easily fixable accidents don't bother these moms. The unconditional love, cuddles, and puppy kisses easily make up for mistakes.
At this writing, Cody is scheduled to go to his forever home in a couple of weeks. And the foster moms will decide what to do next. Ariel said she would definitely do it again.
Making an immediate difference
You don't need an organization. You don't need months of planning. You don't need a big event. You don't need a natural – or national – disaster. You don't need to make a big donation, or commit to months of volunteer service rebuilding homes and infrastructure.
You only need an awareness of need and the willingness to reach out and help. Look for opportunities in your everyday life. Little things. Open a door for someone with their arms full. Kindness and generosity make the world better. Caring about and for each other transforms human to humanity.