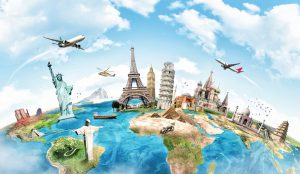 College is one of the best times to travel throughout life. You have long summers and winter breaks and of course, let's not forget about studying abroad. After college, we can easily get in the tendency of pushing back vacations because we just got a promotion, the rent is due soon or it's just not the right time to go away.
One thing we are all guilty of is creating a list of (physically or conceptually) of places or landmarks we'd like to visit in our lifetime. Check this one out!
Paris – Visit Eiffel tower
Mexico – Eat the best tacos in town
Rome – Explore the Coliseum
Australia – Spot out kangaroos in the wild
Egypt – Take a picture next to the Pyramids
India – Taste their spices
However when people ask us when are we going to go, we usually say "I don't know, when I have some time."
You will never have more time than in college!
Seriously, there is no better time than college to travel. You can save up some money during the academic year and then you have 3-4 months of vacations. You should probably set some of that time to work, get some experience and earn some extra money. However, even if you spend a couple of months working during the summer you still have a full month to do whatever you want! Use it to go on those trips you have always wanted to go on. Once you finish school you won't have the time to really go to a place and be fully present with the location, the architecture, the art or the people
On top of it just being a great time to travel, it is also the right time for it. You are in a period of your life when everything is about learning and experiencing. That is exactly what traveling is about! Traveling can teach you many things about life. Here are just a few of them:
1      Gratitude
2      Being able to adjust to changes
3      Understanding the value of getting lost
4      Accepting others
5      Understanding you can't please everyone
6      Don't wait around for other to motivate you. Do it yourself and if other join, then awesome!
7     Trying new things
You see, there is no better time to travel than now. As a college student you have several options available. You can go on a trip that you organize alone or with friends. There are also mission trips you can join. You can volunteer with a group or by yourself in a cause that you are passionate about. And of course, you can do a study abroad with your school. All these options really allow you to travel all year round. They allow you to choose to do things that you are passionate about. Aside from all the great life lessons you learn from traveling, you can also accelerate academically if that is what you want. Pick up a book of your choice, schedule meet ups with new and exciting people, learn about their cultures and behaviors and ultimately have fun. Enjoy life. Now go on and travel away!